There are 482 Legendary creatures in Magic at the moment, according to Gatherer. Deciding which is right for you can be a daunting task. Many people choose their generals because they want to build around a theme, or their general has an ability that they find exciting. Of course, out of these 482 available legends, there are a lot of mediocre, weak, or straight-up terrible generals. Maybe they're horribly overcosted, or have some ridiculous drawback, or both. There are a lot of bad cards that have been printed over Magic's near 20 year history. The awesome thing about Magic is that even the terrible cards have been played by someone, somewhere. One of Mark Rosewater's favorite lines is, "If you don't understand why a card was printed, it probably wasn't printed for you". This is exemplified in Commander, where people can create some incredibly crazy concoctions that might not actually ever win, but they get to play with a deck of completely off-the-wall cards that  have some really neat interactions once everything gets going.
Me, I like winning more than making silly things happen, so my criteria for what makes a "good" general is going to be different from the guy with the Ramirez DePietro Pirate deck. I'm not going to go build an Ad Nauseum deck that can kill the table on turn two, the way Sean McKeown did in one of his articles, but I still want my decks to win more than they lose. One thing that is great about Commander, which you hear quite often, is that cards that were unplayable in any competitive environment can be total All-Stars in this format, or are amazing when paired with the right deck or general. Every Standard format has a few powerful cards that just never have the right supporting cast. Some of the most powerful Legends fall into this category, and I think it's great that they finally get their chance to shine here, even if they do inevitably end up on many people's "most hated generals" lists.
Many of Commander's most exciting spells are simply too slow to be viable in competitive sixty card formats. Fortunately, because Commander isn't a tournament format, you have a bit more wiggle room. Most groups aren't trying to kill each other within the first four turns of the game, so you'll have time to execute your deck's plan, whatever it is. If we're "guaranteed" enough time to get up and running, the next thing to do is figure out what it is you want to do, and why. While you can build decks that only use the general for colors, since the general is the defining characteristic of this format, why not take advantage of it? If you always have access to your deck's centerpiece, your consistency skyrockets, despite being a singleton format. While I understand the desire to play "good stuff" decks that just happen to cast their general whenever it is convenient, and agree that it can be fun to just throw together every card that you always wanted to play, always having access to your general can be such a powerful thing, if you build your deck with that in mind.
So we know we have time to execute our plan, and we know we want our general to be a major part of it – now what? Most creatures fall into one of a few categories:
The most basic generals don't have any abilities besides maybe a keyword like "flying". They are relatively unexciting, although there are some slight tweaks to the theme that can make them more valuable. Dakkon Blackblade, for example, has a power/toughness equal to the number of lands you control. He doesn't do anything super impressive, but he can be huge later in the game. His colors are traditionally very controlling, and once you've managed to get the game on lockdown, you can summon him up to finish your opponents in short order. With Dakkon, you always have access to a huge threat, so you don't need to worry about having control of the game, but no way to actually win it. This doesn't mean you should build your deck without threats, but Dakkon provides you with a useful option that most control decks don't have. Generals like Dakkon, Multani, and Vorosh are decent "good stuff" generals – you can play all of your favorite cards, and don't really need to worry about adhering to a theme, and will always have a powerful attacker to summon when necessary.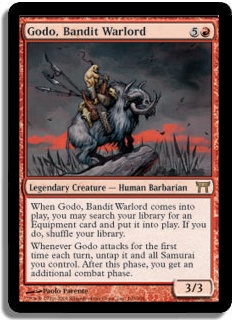 Next you get generals that do something when they enter the battlefield, like Godo, Bandit Warlord. These are nice, since you get your value up front, and most of them have a pretty impressive ability. In Godo's case, you're getting a 3/3, plus tutoring the best equipment out of your deck and putting it into play. Six mana for a guy plus a sword, and he gets to attack twice? Sounds pretty good! Sure, he has to die before you get to tutor again, but his ability does good work, and saves you a decent amount of mana.
Finally you have the generals with recurring abilities. These can be hit or miss, since you get some amazing ones, and a lot of really terrible ones. As a basic rule, I think generals with tap abilities are pretty suspect. If they require mana also, that's even worse. I have a whole hand full of spells I want to cast! I don't want to waste a turn casting a general, and then another half-turn's worth of mana to use his ability! And that's assuming he's even lived a whole cycle around the table, which is an awful lot to be asking of a creature. And then, since he's got a tap ability, you can't even attack with him if you want to use his ability! An exception would be a general like Captain Sisay who has a powerful enough ability to make up for the drawback of needing to survive a turn to do anything for me. Some generals have repeatable effects; just pay the mana, and the effect happens. Karn, Silver Golem is a good example. If you have ten mana, you can turn ten artifacts into creatures! There's no 'once per turn' limit, like with tap generals. And then there are the generals with static abilities. All they ask is that you spend the mana to cast them, and then they sit in play and constantly exert their positive effect for you. Azusa, Lost But Seeking lets you play three lands per turn, all for the low cost of three mana. While you probably need these generals to live a few turns to really get the benefits from their abilities, they can be worth it. And if they die, at least you got some use out of their ability, unlike the tap generals. In Azusa's case, even if she doesn't survive the turn, you still paid three mana for an Explosive Vegetation, which isn't bad at all.
Which brings me to my next point. Creatures die a lot in Commander. Consider that carefully when picking your general. Yes, you can rebuy him for two more mana, but how long until he's too expensive to justify recasting? Kaalia is great at four mana. At six, she's still acceptable. At eight or ten you have to really start questioning if it wouldn't just be better to cast the dragons right from your hand. And Kaalia is a cheap general that provides massive mana savings if she survives. What if we're talking about a 7+ cost general, like Kalitas, Bloodchief of Ghet? Sure, his ability is nice. But if he's died twice, do you really want to spend 11 mana, plus 3 more the next turn, just to kill one creature, and get a token copy? I'm not saying that expensive generals are bad, but keep in mind that you have to wait longer, and get less uses from them. Cheap generals come down early to help, and can be recast several times before becoming too expensive – in other words, if you're building around a general, and want him or her in play as much as possible, a low cost general is probably the way to go. If you are considering an expensive general, make sure that there isn't a cheaper one with a similar but slightly "weaker" effect.  Drana, Kalastria Bloodchief costs two less than Kalitas, is slightly smaller but flies, and while you might spend a bit more mana to kill a creature, and you don't get the token, she's able to kill things Kalitas can't, and makes herself larger while doing so, which is very relevant if you're trying to kill someone with general damage. Also, Kalitas has to tap for his ability, whereas Drana can kill multiple creatures in one turn if you have the mana, and still attack. They're even both Vampires, if that's important to you.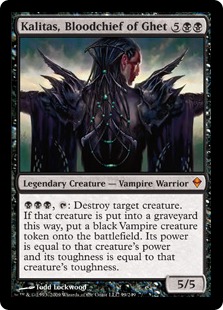 vs.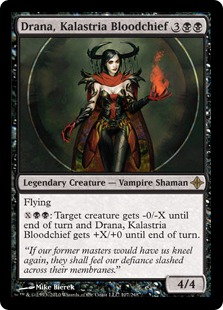 Obviously, what people want from their general is going to vary, but for me the key thing to remember is that you have three people you need to beat, not one. Each person is taking one turn, which means that you're all on an even field…except that if two or three of them decide that you need to be dealt with, it is like your "opponent" is taking three turns to your one. Suddenly he has three times the answers to your threats, three times the attack steps, and three times the life. This means that you want a way to break parity. Since you always have access to your general, if it allows you to do so, you can consistently get ahead of the table, and if what you're doing is powerful enough, you should be able to stay ahead of your opponents, hopefully even through their combined disruption. This means you don't want your plan to collapse to a single Wrath. If your board is wiped, you want to be able to quickly rebuild again, not just be a sitting duck.
I realize this post probably had a lot of information that readers were already familiar with, but I wanted to give some background information before explaining tomorrow what it is I personally look for in a general. If you're an EDH veteran and found this to be totally useless, sorry! If you're relatively new to Commander, hopefully this was helpful!