Welcome to Gatecrash Prerelease weekend! Gatecrash, as a whole, wasn't fully spoiled until just recently. Luckily, you don't need to wrack your brain over what guild to choose. This time, it looks like the guilds are much more balanced than Return to Ravnica. Well at least my initial impressions say that. Pick your favorites and enjoy yourself this weekend. I have outlined the strengths and weaknesses of each guild along with pointing out what commons you should be looking for. Rares are a blast to play with and can win games, but those lovely commons are what make or break a deck.
Boros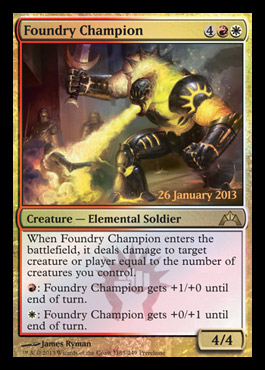 The Boros Legion is always recruiting for more soldiers to fill its ranks. Why? Well because they keep sending them on suicide missions so that one of their dudes gets the Battalion Bonus. Boros is a trap waiting to happen. Don't force Boros just because you have a lot of cards with Battalion on it. Luckily, The commons below actually have very good buffs when Battalion triggers. Just remember this rule, if the creature sucks without Battalion, then its probably not good enough to play. Basically, play the Boros deck like its full of vanilla creatures and good red removal spells with the possibility to absolutely blow out opponents. Boros also is helped by the fact it has the biggest bombs in the set. There is not a single Boros rare that I wouldn't play. The weakness of Boros is that is does require multiple creatures. Removal filled decks should prey upon the Boros deck.
Best Boros Commons: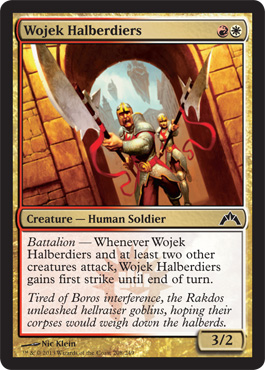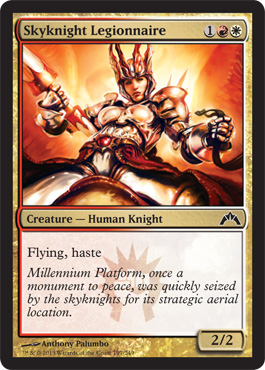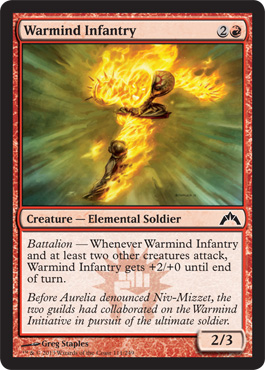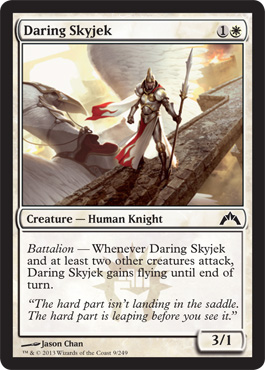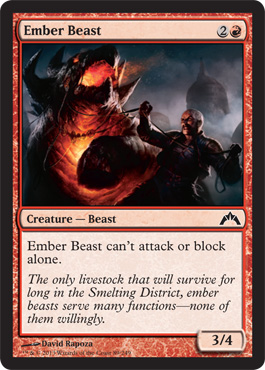 Gruul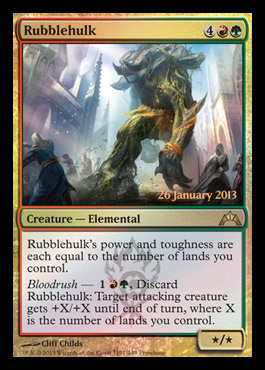 Rawr goes the members of the Gruul Clan! They riot the streets with big creatures that cost a lot and love it! Gruul will seem to rely on its red removal spells more than anything else. The Gruul deck will have enough big creatures to win games, just a question if it can make to that late game to do so. Simic, Boros, and Orhzov has the ability to come out of the gates quickly which makes a mediocre Gruul deck hard to pilot. A good Gruul deck can beat any of the other guilds best decks. The Gruul uncommons are just ferocious along with the Guild Pack rare being a absolute monster. Gruul could be the Rakdos of Gatecrash. None of their cards heavily rely on others in the deck, just like Rakdos.
Best Gruul Commons: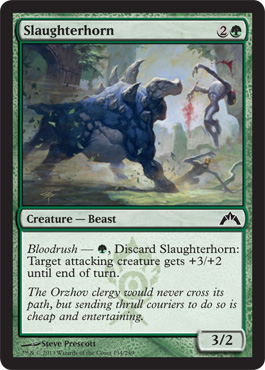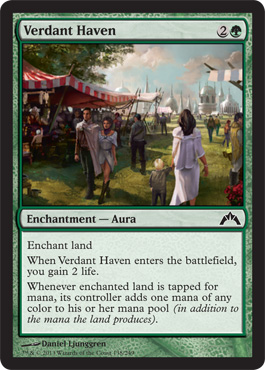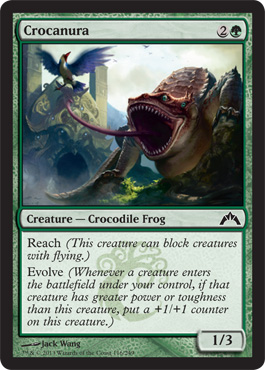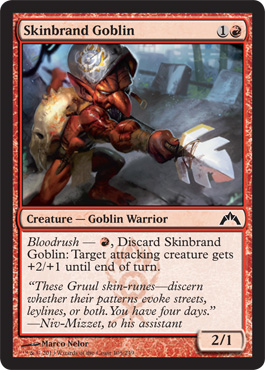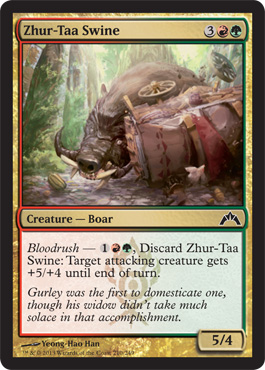 Simic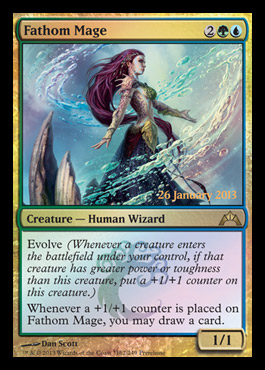 The Simic Combine is an ever evolving one. So much that its best creatures won't be Simic exclusive! All the Evolve creatures start rather low and will require bigger creatures to trigger them upwards. So Gruul will be lending its powerful fists to make Simic a beast. If you open enough Gruul Bloodrush cards, I can see the Simic deck being able to bust open the gates with never ending creatures early and eventually overrun for lethal. Now just be ready to play a bunch of creatures and next to no removal spells for this to work. Good thing is, Simic has the fewest ways to interact with opponents. Part of me really thinks this could be the break out guild for Gatecrash. Nah, who am I kidding? Its going to be Boros or Gruul.
Best Simic Commons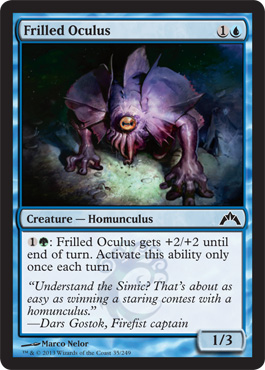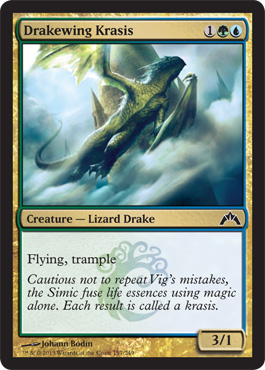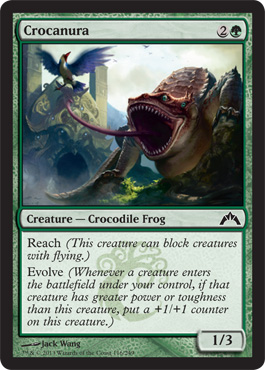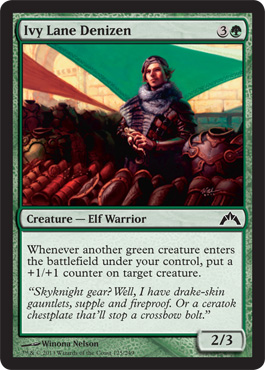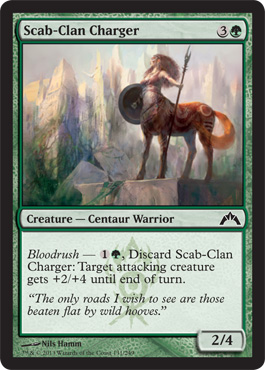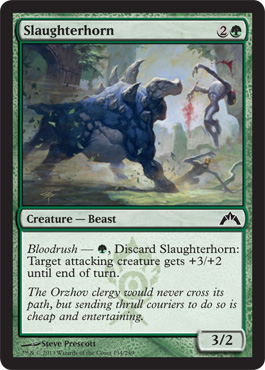 Dimir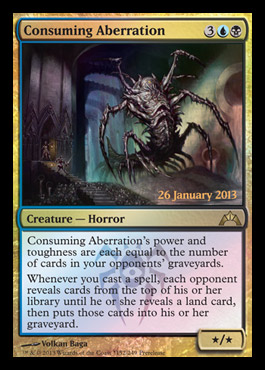 Welcome to the seedy underground. Everyone knows House Dimir exist but doesn't really want to publicly acknowledge it. Same thing happens at every Friday Night Magic. There is always that one guy that loves mill. No one acknowledges him as a real threat, but deep down no wants to play him and lose. If joining House Dimir is in the blueprints , then players will be getting milled to death! Dimir has the worst creatures out of all the guilds. That even includes the Return to Ravnica guilds! So to be successful with Dimir, be ready to play every mill card opened along side with every removal / bounce / wall you have. Luckily, all the walls are blue creatures which combos with Sage's Row Denizen very well. If 3 of that beautiful 2/3 miller appear, things might be able to go well. Though, I think in the end, it will depend on the rares for House Dimir. Having just the Guild Pack rare will not cut it.
Best Dimir Commons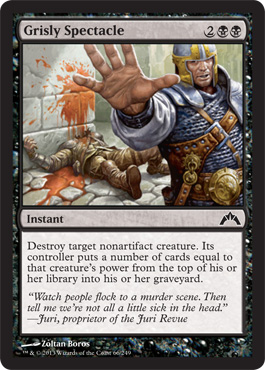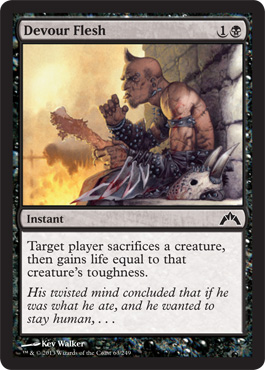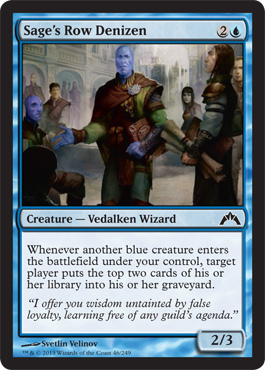 Orhzov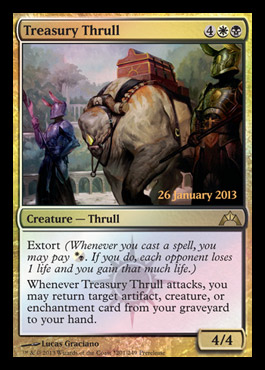 Wealth is power in the Orhzov Syndicate. It is fitting that their Guild Mechanic is Extort, which will nickel and dime your opponent from start to finish. Sadly, there is little chance that you will sit there and extort your opponent from 20 to 0. But how will the death be brought upon the poor slobs? Orhzov has a bunch of mediocre vanilla creatures just with Extort slapped on, nothing terribly exciting. What Orzhov has going for it is its fantastic removal. Enjoy killing any creature you wish with its many unconditional removal spells. If you plan to champion the Orhzov cause, you will be wanting to open many of the commons below. The Basilica Guards will gum up the board while your fliers get damage through with your removal.
Best Orzhov Commons: